For Kawasaki 2003-06 KLX 125 16 Complete Rear Rim Wheel Brakes Sprocket Tire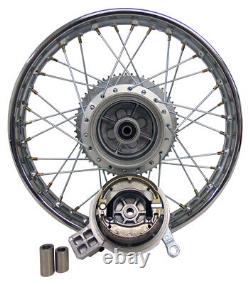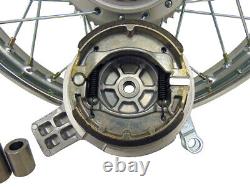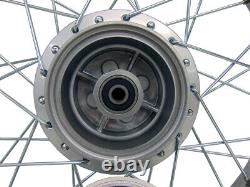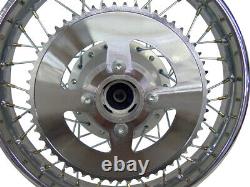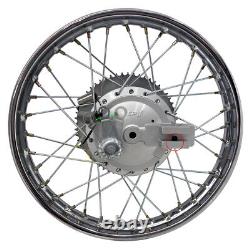 Cycles R Us specializes in NEW, USED and Aftermarket Motorcycle, Dirt Bike and ATV parts and accessories. We have been supplying quality used parts since 1996. CRU Products was started by Cycles R Us in 2009. Cycles R Us has been in the salvage business for over 25 years.
Being in the salvage business, we not only see what parts are in a very high demand but what parts are in a very high demand that are costly at the dealership. Distributors and Dealers are welcome. Cycles R Us describes all parts as accurately as possible, but we are human and mistakes do happen. CRU Products 16 Complete Wheel Fits Suzuki 2003-13 DRZ125 2003-up DRZ125L Fits Kawasaki 2003-06 KLX125 Please check the sprocket bolts along with checking spokes after first couple rides.
They may need to be re-tightened. This is a complete laced wheel that will come loaded with bearings, seals, spacers, brake plate, brake shoes, rear sprocket, rim strap, rim lock, tire and spoke wrench This wheel uses a 16 x 1.60 steel rim rather then the standard DRZ aluminum rim Tire Brand: IRC VX-10 Tire Size: 90/100-16 51M BIAS TT (not for highway use) Rear Wheel Brake Plate Adjustments Some minor adjustments may need to be made on the rear brake plate to adapt to your application. Rear brake actuator arm may need taken off and re-positioned to make proper contact with your rear brake rod. Please be sure that once you have your chain adjusted accurately to tighten down the set screw to firmly connect to the slot on the swingarm.
This helps for a more secure fit and function. Please remember to loosen the locking set screw when adjusting your chain in the future.
CRU offers replacement brake shoes and sprockets for these wheels. This excludes the brake shoes and sprockets. Cycles R Us reserves the right to terminate any sales offered at our discretion.
All items must be paid for within 4 days. Items not paid for in 4 days will be relisted.