Complete Wheel Aluminium Rim 2, 75x16 Fit Simson S51 S50 KR51 Schwalbe Star V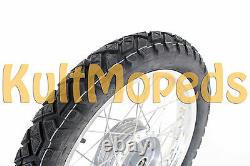 Complete Wheel Aluminium Rim 2, 75x16 Fit Simson S51 S50 KR51 Schwalbe Star V. The description of this item has been automatically translated. Welcome to Simson & MZ Profi on the Internet!
Developed with the main goal of'reliability', the cult bikes from Suhl and Zschopau still run reliably and with an unbroken fun factor! KultMopeds is fully committed to the preservation and refinement of the Simson & MZ brands and is happy to support you with inexpensive and high-quality spare parts as well as with an all-round service!
Here we offer you a complete front wheel. The wheel is suitable for Simson S51, S50, S60, S70, KR51/2 & KR51/1 Schwalben, SR4-2 StarSperber, SR4-4Habicht, Duo 4/1 &Duo 4/2.
Aluminum rim with high-quality chromed spokes and hub with branded bearings! The spokes are chrome-plated in 3 operations, which means that the chrome is very durable! A tire of the VeeRubber type is mounted VRM185 with a width of 3/4 x 16 (2.75 x 16).
Matching rear wheels or the set of both can be found in the KultMopeds shop. Always find out the latest here - our newsletter. Models and search terms: KR51/1, KR51/2, Star, HabichtSperber, Spatz, Schwalbe, SR4-1, SR4-2, SR4-3, SR4-4, MZ ES MZ ETZ 125/1, 150/1, 125/2, 150/2, 125/3, 150/3 TS 150 175 Jawa 25 175 350 DDR IFA Suhl, Ost, motorcycle, ETS ETZ, AWO Sporttouren, 425, 250 425S 425T, SR1, Duo 4 andDuo 4/1, SR2E and KR50 with, DC Horn, SR2E and KR50 with, Tail Lamp Safety Circuit, SR50, SR80 and 1 XCE with PVL, S50 B, S50 B1, S50 B2, S50 B2, S50 N, S50 N, S51 B, S51 B1-3 and B1-4, S51 B2-1, S51 B3-1, S51 B4-1, S51 B2-4, S51 E and S51 C, S51 C, S51 E4, S51 N, S51/1 B, S51 /1 C, S51/1 C without continuous light, S51/1 C1, S51/1 E and S70/1 E, S51/1 C1, S51/1 E and S70/1 E without continuous light, S51 and S70 withVape 12 Volt, S70 E, S70 C and S70 E/2, S53 B and S53 E, S53 C, S53 N, 125 RS, Schikra MS 125, Sperber MS 50, M531, M541, M53/2 KF, M53/1 KF. Browse through our other offers! To the engine and drive parts.
Optimize performance or find cheap replacement parts. To the oil & care products. Everything for the eye and to make it beautiful again & for a long service life! To the screws & SETs. And finally stainless screws & original look again!
Now repair yourself with the right professional tools! Models and search terms: KR51/1, KR51/2, Star, HabichtSperber, Spatz, Schwalbe, SR4-1, SR4-2, SR4-3, SR4-4, MZ ES MZ ETZ 125/1, 150/1, 125/2, 150/2, 125/3, 150/3 TS 150 175 Jawa 25 175 350 DDR IFA Suhl, Ost, motorcycle, ETS ETZ, AWO Sporttouren, 425, 250 425S 425T, SR1, Duo 4 andDuo 4/1, SR2E and KR50 with, DC Horn, SR2E and KR50 with, Tail Lamp Safety Circuit, SR50, SR80 and 1 XCE with PVL, S50 B, S50 B1, S50 B2, S50 B2, S50 N, S50 N, S51 B, S51 B1-3 and B1-4, S51 B2-1, S51 B3-1, S51 B4-1, S51 B2-4, S51 E and S51 C, S51 C, S51 E4, S51 N, S51/1 B, S51 /1 C, S51/1 C without continuous light, S51/1 C1, S51/1 E and S70/1 E, S51/1 C1, S51/1 E and S70/1 E without continuous light, S51 and S70 withVape 12 Volt, S70 E, S70 C and S70 E/2, S53 B and S53 E, S53 C, S53 N, 125 RS, Schikra MS 125, Spe. This item is in the category "Vehicle Parts & Accessories\Motorcycle Wheels & Tyres\Wheels with Tyres". The seller is "kultmopeds" and is located in this country: DE. This item can be shipped to United Kingdom. for Simson
Brand: VeeRubber
Rim Size: 16 Zoll
Rim Color: Silver
Tyres Brand: Vee Rubber
Unit Type: Scooter / Moped
Tyre Width: 2,75
Tyre Cross Section: 80
Manufacturer Part Number: VRM185
Rim Material: Aluminum
Season: Summer